Poetry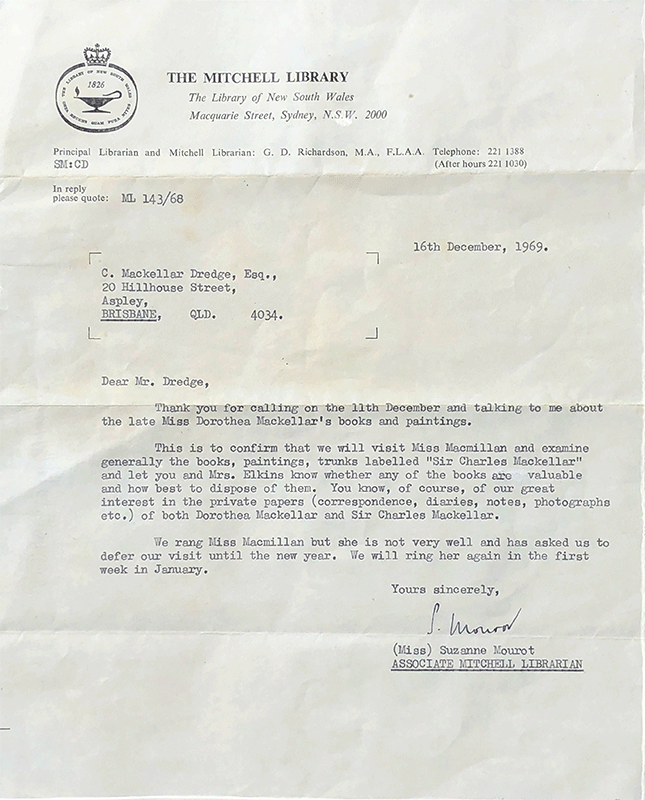 There is no evidence available that can clearly state whether Dorothea started writing the poem, 'My Country', in Australia or England. She began to sketch out the poem earlier than 1904, with the final draft being completed in 1908. Dorothea Mackellar wanted the verse to express her deep and true love for her country. It was re-written several times before a satisfactory completion.
She resented the tendency of acquaintances in her youth to discredit Australia, and to refer to England as 'Home'. As a young girl Dorothea was clearly aware of the variety and beauty presented by the Australian landscape. The majority of her poetry has taken its imagery from her love of the natural Australian scenery. The original title for "My Country" was "Core of My Heart", and was the title used when the poem was first published in 1908, in the London Spectator Magazine
Miss. Mackellar's anthology, "The Closed Door", contained this now famous poem. It was first published in Australia in 1911. At least one other line has been altered from the first draft. The last line of verse three, "And ferns the warm dark soil", was originally, "And ferns the crimson soil." "The Witch Maid"", Miss Mackellar's second anthology, published in 1914, has the original version. Today, the poem seems to be printed with either version.
Her work began to appear in well-regarded journals such as the London Spectator and the Sydney Bulletin. Her Poem, "An Old Song", was published in the American Magazine, Harpers. Many of her poems were translated into German, Spanish, French and Japanese. There were four books of verse published.
The Closed Door, was published by the Australasian Authors' Agency, Melbourne, in 1911, and contained verses which originally had appeared in the London Spectator; the Sydney Bulletin, Harper's Magazine, Sunday Times, Bush Brother, Southern Sphere, , and Appleton's Magazine
The Witchmaid, was first published by J. M, Dent & Sons Ltd, London, in 1914. Some of its verses had appeared in The Closed Door, others had been published in the Spectator and the Sydney Bulletin
Dreamharbour was first published by Longmans, Green and Co., London, in 1923. A number of its verses originally appeared in Harpers Magazine, Poetry, Birth, the Forum, Art in Australia, , the Sydney Bulletin, the Triad and the Australasian and Sunday Mail
Fancy Dress was first published by Angus & Robertson Ltd, Sydney, in 1926. It contained verses which had appeared in the Sydney Morning Herald, The Bulletin, Forum, Melbourne Punch, Spinner, Woman's Mirror and other periodicals which have not been traced.
Triple D Books, and the Dorothea Mackellar Memorial Society,which is situated at Gunnedah, recently published a recommended compilation of Dorothea's poetry. The title of the work is,"Dorothea Mackellar – A Poet's Journey". Well-respected artist, Jean Isherwood, O.A. F.R.A.S. has complimented the work with beautiful illustrations.
Source: 1971, The Poems of Dorothea Mackellar. Australia: Rigby Ltd.