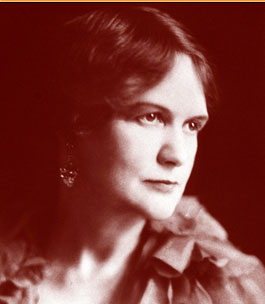 The exposure to various cultures

Her education consisted of private tuition at home until she attended lectures at the university. It was very informal with respect to subject matter. Dorothea was given special tuition in painting, fencing, and languages. Travelling overseas to countries such as England, Europe, America and the East, with her family was also considered part of her education. Due to this exposure to different cultures, she became fluent in many languages. Visiting theatres, galleries and museums added to her knowledge of the Arts. Later when she travelled overseas with her father she assisted him as interpreter.
Family Life

Family, country properties in the Hunter Valley, and near Gunnedah, were places she loved to visit. The rural communities respected, and always considered the Mackellar family to be generous to local needs. Dorothea was a proficient horsewoman, and was proud of her ability to ride side- saddle, even in the rough country terrain. A story is told of how, after a drought was broken, Dorothea danced barefoot in the rain, and was impressed at the sight of a mist of green grass that began to appear across the paddocks.
Dorothea never married. Maybe she never found that special someone.
There were many domestic responsibilities for her to consider. She helped her mother in the home, and often accompanied her father to various charity functions.
Interests

Dorothea loved acting. With her friend Ruth Bedford, together, they would act out the stories and characters that they developed. They would drive to a quiet bush setting around Sydney, where they could play act out their many imagined characters.
Politics became a long- term interest. After 1902, women could vote in the New South Wales state elections on equal terms with men. Her diaries record her interest and concerns of that period, in particular, the discussion on the need for conscription in the lead up to World War I.
During the 1920's Dorothea helped Ruth to establish a Zonta Club in Sydney. Later, in 1931 she assisted with the establishment of the Sydney Publishers, Editors and Novelist Club.
Finally

Through out her life, even though an active interest in the community, politics and the arts was maintained, there was always a deep concern for her family's needs as well.
Miss Isobel Marion Dorothea Mackellar died at the age of eighty-two after suffering an extended period of ill health. She spent her final years at St. Helenie Hospital at Paddington. The funeral service was held at St. Mark's Church, Darling Point."Colour", one of her favourite poems, was read at the service. She was laid to rest in the family vault at Waverly Cemetery, in Sydney.